Smart pigging with the use of the electromagnetic acoustic transducer method (EMAT)
No modern inline inspection method with the use of smart pigs that use magnetic and ultrasound inspection methods can identify 100% of defects for one pig run. First of all, this is due to the fact that each method has some or other limitations as to the identification of defects of a certain type. In particular, a serious flaw of the ultrasound inspection method is the obligatory presence of a coupling fluid or gel which makes the method almost unsuitable for gas pipeline inspections.
One of the methods that do not have this flaw is an electromagnetic acoustic transducer method (EMAT).
The operating principle of EMAT lies in the transformation of electromagnetic waves into elastic acoustic ones. The same as in contact ultrasound inspection methods, when conducting a NDT with the use of EMAT you substantially use two means of generating and registering an ultrasound wave – pulse and resonance ones. To implement the pulse method (which is widely used for diagnostics purposes) you mainly you the same electronic assemblies as in traditional ultrasound devices where the generation and receipt of ultrasound is carried out with the use of piezoelectric transducers. The difference is that an induced coil is used instead of a piezoelectric element and there is a device for generating an impressed magnetic field. As a result of the interaction of the Lorenz force and magnetostriction (magnetostriction is a property of ferromagnetic materials that causes them to change their shape and dimensions during the process of magnetization and it is measured by a ferromagnetic material's relative elongation value during the process of magnetization) with the metal surface an acoustic wave that propagates in a pipe wall is generated. In this case the inspected material is a transducer itself.
It is believed that magnetic fields with strength of 106 A/m are required for an EMA flaw detector to operate efficiently. Modern flaw detectors with a multisection magnetic conductor with constant magnets being controllably pressed against the inner pipe wall, allow generating magnetic field strength in the area where EMA transducers (EMAT) operate, of up to 30 kA/m.
Cracks and corrosion crackings interfere with a guided ultrasound wave which generates a reflected echo signal. Based upon the analysis of the reflected echo signal you draw conclusions about the condition of the pipe wall.
Therefore, one of the main advantages of a flaw detector with the use of EMAT is its unique ability to identify defects attributable to the interaction of metal in tension with the corrosion environment – a stress corrosion cracking, as well as crackings caused by hydrogen saturation.
It is worthy of note that stress corrosion damage is characteristic of high-pressure gas pipelines and is a highly dangerous defect whose identification and localization is a challenge.
A side effect of the development of inline inspection pigs with the use of EMAT is their ability to identify the condition of the insulated coating. In such a case you can divide the condition of the insulated coating of a pipeline by the nature of registered signals as follows:
Lamination with no integrity damage;
Integrity damage (absence) of the insulated coating;
which is of utmost importance when implementing a pipeline reinsulation program that covers pipelines that have been in operation for a long period of time.
Technical capacities of the most progressive companies that develop inline inspection pigs allow equipping flaw detectors with inertial measurement systems on the basis of fiber-optic gyroscopes. The said system maps a pipeline, i.e. it establishes its 3D position in DGPS coordinates. Afterwards when inspection data are processed, DGPS coordinates are established for each identified defect and then they are entered into a unified electronic inspection database that is transferred to a pipeline operator.
By using the inspection database, the pipeline operator can individually develop a repair program. In such a case, when earlier there was no comprehensive information about the conditions of pipelines' insulation coatings available to pipelines operators, i.e. they passed their judgments on its conditions on the basis of indirect indications (metal loss NDT results, selective test drillings, inspection of the CPS's condition, etc.), but since the emergence of EMAT in the inline diagnostics market, the need for global pipeline reinsulation is eliminated. It allows pipeline operators to save a lot of money. And if you take into consideration the fact that this type of inspection pigs give additional information about crack-like defects, there is even more economic benefit from their use .
The inspection pig with the use of EMAT consists of the following systemic components:
Battery;
Information recording and storage devices;
Crack identification unit;
Isolation lamination identification unit;
Odometer unit;
Velocity control unit (option).

Field tests of EMAT pigs confirm that the device identifies flat cracks and different types of isolation defects to high precision.​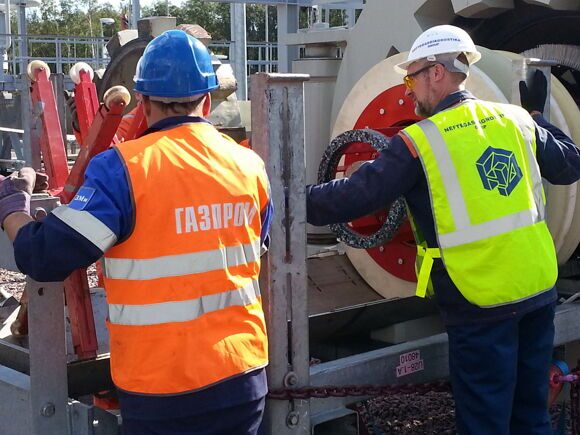 Stress corrosion and relevant inspection data

No coating

Coating applied in field conditions
The main advantages of the EMAT pig are as follows:
Sensors do not require any contact liquid which allows using a pig for inspecting both liquid and gas pipelines;
The environment does not interfere with EMAT signals, therefore measurements are of high precision.
Special capacities to identify stress corrosion crackings; crack colonies and different types of separate cracks (crack network, external longitudinal cracks at the edge of a welding joint, fatigue cracks), as well as cracks in longitudinal joints and areas adjacent to them;
This is the only inline inspection pig that identifies external isolation lamination;
A capacity to combine it with other inspection technologies to create a highly effective inspection pig, for instance, it is possible to combine it with the mapping unit and the velocity control unit (the pig velocity of up to 5m/s with the pumped medium stream velocity of up to 12 m/s – the pipeline's flow efficiency is not reduced).